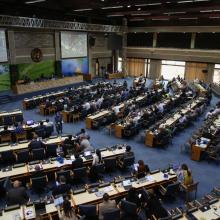 The new Nitrogen Resolution – a landmark decision towards halving nitrogen waste
On 2nd of March 2022, during the second part of the 5th United Nations Environment Assembly (UNEA5.2) UN Member States made an historic commitment in Nairobi by adopting the second Resolution on Sustainable Nitrogen Management (UNEP/EA.5/Res.2).
The Resolution was championed by the Government of Sri Lanka, who was joined by UNEP-UKCEH/GEF INMS Project Director, Professor Mark Sutton, as a technical expert of the country's UNEA5.2 delegation. The Resolution was co-sponsored by Brazil, Maldives, Pakistan and Uganda.
We have reason to celebrate as this commitment brought us closer to the Colombo Declaration ambition of halving nitrogen waste by 2030. The importance of INMS' contribution to the development and eventual adoption of this Resolution is made clear in the Resolution text itself, which takes note of the INMS project as well as the 'International Nitrogen Assessment' (INA). The INA will be the first publication of its kind, and a major output of the INMS project, set for publication in 2023.
At the United Nations Environment Assembly 5.2 (2022) in Nairobi, Cluster 3 delegates in discussion Photograph: Kiara Worth /IISD/ENB
What is significant about the UNEA5.2 Resolution?
While the first UNEA Resolution on Sustainable Nitrogen Management (EA.4/Res.14), adopted at UNEA4 in March 2019, set the stage for urgent work on nitrogen, this second Resolution is important because it includes both an ambition to "significantly reduce nitrogen waste globally" and also a timeline "by 2030 and beyond". It is also the first time that a UN agreement has embraced the concept of "nitrogen waste"; a concept that was first introduced in Bali at the Our Ocean Conference (October 2016) as a commitment by the International Nitrogen Initiative (INI) to save 100 billion USD per year. The concept of nitrogen waste was then further embraced by 14 countries in October 2019 by signing the Colombo Declaration, with the ambition to "halve nitrogen waste by 2030". This is important because reducing nitrogen waste means that limited nitrogen resources can then go further to better contribute to food supplies.
What are the next steps?
Moving forward, INMS is working to complete and publish the first International Nitrogen Assessment (INA) in 2023, which will provide countries with the scientific underpinning for future action on nitrogen.
INMS is also working to further progress on the "modalities" for inter-convention coordination for nitrogen (as identified in operative paragraph 3 (b) of the new Resolution), in partnership with UNEP's Nitrogen Working Group and in support of the development of the 'Interconvention Nitrogen Coordination Mechanism' (INCOM).
Relates links: Press release from Government of Sri Lanka 03 March 2022, Sri Lanka leads United Nations to resolution on Sustainable Nitrogen Management (news.lk)