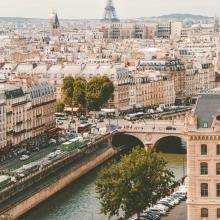 Shaping the future of nitrogen
Per the Colombo Declaration and the EU Farm to Fork Strategy, a growing number of countries have committed to reducing their nitrogen waste by 50% by 2030. An ambitious target such as this will require a comprehensive action plan that doesn't only react to immediate hazards but plans for the future.
For three days in May 2022 an interdisciplinary group of scholars, stakeholders, and policy experts from 19 countries gathered in Paris, France to reflect on previous national N policies in order to begin developing national roadmaps for sustainable nitrogen management.
This workshop was a collaboration between INMS, the Organisation for Economic Co-operation and Development (OECD) and the Institute of Advanced Studies in Paris and organized by Dr. David Kanter. This was a hybrid meeting with 31 participants attending in-person and 17 attending remotely.
This was the first in-person INMS meeting in over two years and a powerful effort to continue building on the momentum of the UNEA Resolution 5/2 on Sustainable Nitrogen Management.
Workshop Proceedings
Presentation during the Developing Roadmaps for Sustainable Nitrogen Workshop, Paris, France Photograph: Dr. David Kanter
With the nature of nitrogen compounds considered, as both a vital resource for plant growth and a pollutant as a consequence of overuse, these experts gathered to exchange experiences and visions with the goal of addressing the challenge of achieving the right balance of nitrogen exposure of the environment.
Presentation topics included reflections on numerous country's nitrogen responses including, Japan, the Netherlands, Germany, France, Brazil, Denmark, Romania, New Zealand, and the South Asia region. Other topics included what the environmental governance literature can tell us about nitrogen roadmaps, reconciling food and environment goals in nitrogen roadmaps, and lessons from EU water policy for nitrogen roadmaps.
Major Outcomes of the Workshop
The workshop featured multiple presentations on previous policy efforts, in order to reflect on what was effective and what was not. Insights from these presentations are to be compiled into a guidance document that will synthesize the central lessons and outline what types of actions and indicators work well under which conditions.
A major outcome of this workshop was the development of a first draft of a template for national action plans to improve nitrogen management. Moving forward, participants will continue to refine this template and prepare it to feed into multiple policy processes.
Related links: Developing roadmaps for sustainable nitrogen management - Institut d'études avancées de Paris