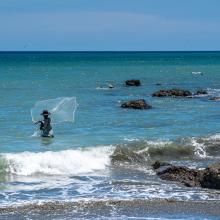 Register NOW for the FREE Nutrients and Wastewater Massive Open Online Course (MOOC) entitled 'Source-to-Sea Sustainability - Integrated Cycles in Wastewater and Nutrient Management'
Registration for this course is now open; please go to: http://www.environmentacademy.org/courses/course-v1:UNEP+ENV002+2018/about
For more information please follow this link: http://www.environmentacademy.org/
In 2016, the UN Environment and Concordia University (Montreal) launched the Massive Open Online Course (MOOC) "Wicked Problems, Dynamic Solutions: The Ecosystem Approach and Systems Thinking".
As a second MOOC in the series, "From Source to Sea to Sustainability" aims to focus specifically on the growing issue of wastewater and nutrient pollution and effective, holistic ways to address it. The MOOC will be disseminated through the Global Universities Partnership on Environment and Sustainability (GUPES), which is currently comprised of over 790 universities globally.
The MOOC was launched on 15th January and the registration is open till February 17th. However, the course is on going for the next 8 weeks till April 17th.
See below for enrolment details to this MOOC:
Dates for MOOC ENV002: From Source to Sea to Sustainability:
Course Start Date : January 15, 2018
Course End Date: April 16, 2018
Enrollment Start Date: December 1, 2017
Enrollment end Date: February 18, 2018 (8 weeks prior to the end date of this course)